"Patricia Neal: An Unquiet Life"
STEPHEN MICHAEL SHEARER is the author of Patricia Neal: An Unquiet Life. He has written for the Las Vegas Review-Journal and is also a former model and actor, having appeared on stage, television, and in film. Shearer currently resides in the Twin Cities in Minnesota and New York City.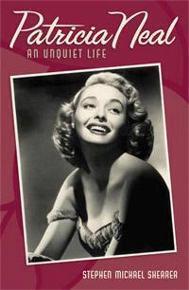 Patricia Neal: An Unquiet Life is the first critical biography detailing this famous actress's impressive film career. Stephen Michael Shearer's approach incorporates both biography and cinematic study. Shearer has conducted numerous interviews with Neal and with her colleagues and friends, and the result is an honest and comprehensive portrait of an accomplished woman who has lived her life with determination and bravado.

With her commanding presence, legendary actress Patricia Neal anchored such classic movies as The Day the Earth Stood Still, A Face in the Crowd, and Breakfast at Tiffany's. She is perhaps most well known for her crowning acting achievement: her performance as Alma in Hud, which earned her the Academy Award for Best Actress in 1963.

Neal grew up in Packard, Kentucky, and began acting as a teenager. Her career soared after moving to New York, where she performed in several Broadway plays, winning a Tony Award for Lillian Hellman's Another Part of the Forest. She was then courted by Hollywood, and after being cast in The Fountainhead, Neal quickly became regarded as one of the most promising actresses of the era. In 1965, several years after marrying famed children's author Roald Dahl, Neal suffered a severe and debilitating stroke, after which Variety mistakenly reported that she had died. After a difficult recovery, Neal returned to film acting, earning a second Academy Award nomination, and appeared in a number of television movie roles in the 1970s and 1980s. In 1986, Neal received the Women's International Center Living Legacy Award.