REVIEWS - "Gloria Swanson: The Ultimate Star"
Publishers Weekly Review 09/30/2013 - Stephen Michael Shearer succeeds brilliantly in not missing a moment of 1920s Hollywood starlet Gloria Swanson's gilded, imperfect life. Celebrated as "the movie star of all movie stars," film and fashion icon Gloria Swanson's rich, glamorous life included six marriages, myriad affairs, and a fortune all but squandered. Both charming and headstrong from the start, Gloria moved to California to become an actress at age 16, where she embraced a work hard, play hard mentality, raising three children while bankrolling lovers and husbands. Described by her daughter as "a very feminine woman with a masculine brain," Gloria was in control of her career and lifestyle early on. She segued into television and talkies, making a comeback with her critically acclaimed performance in Sunset Boulevard. Her not-so-secret affair with Joseph P. Kennedy was a passionate, complicated relationship, and left her finances a shambles. Shearer's riveting, weighty biography is a powerful paean to the silent movie era, its renowned stars and directors, and to Gloria, who was as famous for her acting as for her liveried butlers, generous gifts, and extravagant Parisian shopping sprees.
REVIEWS for "Beautiful: The Life of Hedy Lamarr"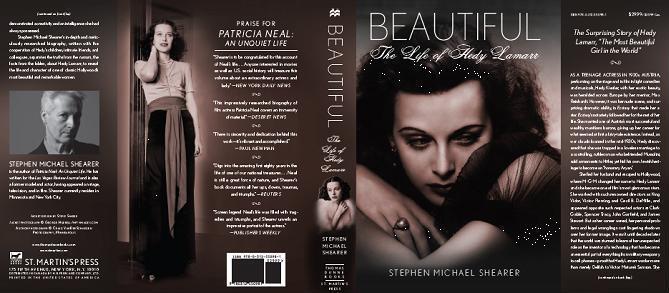 KIRKUS REVIEW: In this proficient biography of the sultry, litigious Hollywood star, Las Vegas Review-Journal writer Shearer (Patricia Neal: An Unquiet Life, 2006) takes pains to render a fair reevaluation of her acting. Exotically beautiful and groomed for the high-toned films of the 1940s and early Technicolor, Hedy Lamarr (1914-2000) often groped for the right roles. As a result, she didn't fully explore her acting potential, writes the author in this nuts-and-bolts account. Lamarr is qouted as saying, "My face has been my misfortune," and indeed she was considered in her era that most beautiful of the Hollywood actresses. she was typecast as the vamp and temptress, largely due to her notorious early German film Exstase (1933), in which she appeared naked. Her German accent didn't help. Born Hedwig Kiesler in Vienna to a middle-class Jewish couple, Lamarr bluffed her way into small acting parts at the Sascha-Tobis-Film in her teens. She briefly attended Max Reinhardt's school in Berlin, then followed him back to Vienna to act in various stage productions, befriending Otto Preminger. After achieving exposure in Exstase, she married the wealthy Austrian industrialist Fritz Mandl-the first of six mostly disastrous marriages to men she believed would fix her financially-before fleeing him (and the Nazis) to board an ocean liner carrying the party of M-G-M mogul Louis B. Mayer. Felicitously, by their arrival in New York in late 1937, she had a new name and a movie contract. From her first film, Algiers (1938), Lamarr set a new standard of beauty, "with those huge, marbly eyes, the porcelain-skin, the dreamy little smile, and the exotic voice that was an artful combination of Old Vienna and the MGM speech school. During the '40s, she worked with all the greats, culminating in Samson and Delilah (1949), then moved on to television roles to support her spiraling law suits and several children. Unfortunate shoplifting sprees later marred her chances at working. Only late in life was the invention she had worked on with composer George Antheil as early as 1941-an anti-jamming device instrumental in torpedo operations-finally recognized. A dogged, basically factual tale of a Hollywood survivior. (Two 16-page black-and-white photo inserts. Agent: Deborah Ritchken/Castiglia Literary Agency)

PUBLISHERS WEEKLY REVIEW:
In this authoritative biography, Shearer (Patricia Neal: An Unquiet Life) surveys the career of actress Hedy Lamarr (1913-2000), born Hedwig Eva Maria Kiesler in Vienna. In her teens, she was cast in German films, and in 1933, after she appeared nude in Ecstasy, she was catapulted to international fame. During an Atlantic crossing on the Normandie, Louis B. Mayer offered her an MGM contract and changed her name to Hedy Lamarr. Promoted as "the most beautiful girl in the world," she appeared in more than two dozen films between 1938 and 1958. Metro denied her a loan out to do the lead in Casablanca, but her vibrant screen presence in Cecil B. DeMille's Samson and Delilah (1949) left a lasting impression on both filmgoers and Paramount; it raked in over $11 million to become the most profitable Paramount production up until that time. She faded from films in the 1950s, made numerous 1960s TV appearances and then dropped from the limelight, retiring to Florida in 1987. Providing probing and detailed coverage of her five marriages, children, various lawsuits, radio roles and shoplifting headlines, Shearer has combined extensive archival research with insightful interview quotes. The result is a fascinating biography that recreates Hollywood's Golden Age of Glamour.


AMERICAN LIBRARY ASSOCIATION "BOOKLIST" REVIEW: Shearer's biography does not simply chronicle the life of Hollywood legend Hedy Lamarr, from her cosseted childhood in an assimilated Jewish family in Austria to her early breaks in Max Reinhardt's internationally famous theater company; her scandalous, career-launching nude scene in the Czech film Ecstasy; her tortured first marriage to Jewish Nazi arms manufacturer Friedrich Mandl (dubbed an "honorary Aryan" the Third Reich); and her daring escape from the sadistic Mandl and Nazi Germany to Los Angeles and MGM. The real beauty of the book is how well and how wholeheartedly Shearer tells this remarkable story. It helps that much of Lamarr's life reads like a novel, packed with surprise twists and stereotype-destroying details, such as Lamarr's fascinating after-hours research in military communications systems (done with avant-garde composer George Antheil), research that formed the foundation for the technology used in Wi-Fi and cell phones. For this she won an award in 1997, three years before her death, from the Electronic Frontier Foundation. One finishes the book feeling that one has read a complete portrait of Hedy Lamarr, actor and inventor, a biography that reveals, with drama and wit, how much more there was to this complex, brilliant woman than her ethereal natural beauty.
— Jack Helbig

LIBRARY JOURNAL.COM:
Shearer, Stephen Michael. Beautiful: The Life of Hedy Lamarr. Thomas Dunne Bks: St. Martin's. Oct. 2010. c.432p. photogs. bibliog. index. ISBN 978-0-312-55098-1. $29.99. FILM

Hedy Lamarr was known in her heyday—Hollywood of the 1930s and 1940s—as "the most beautiful girl in the world." Lamarr was incredibly lovely, but she was also highly intelligent and complex. She first gained worldwide attention for her nude scenes in the Czech film Extase in 1933; Hollywood soon beckoned, and she quickly became a glamorous film icon, referred to as the "Dream Girl of 50,000,000 Men." But behind the stardom and multiple marriages was a reclusive woman with a fertile mind who was a successful inventor and financier. In his biography of Lamarr, Shearer (Patricia Neal: An Unquiet Life) pulls back the veil to reveal a woman who was at her most fascinating away from the movie screen. VERDICT Deeply researched and written with humor, grace, and a great respect for his subject, Shearer's biography will be of interest not only to film buffs but also to students of women's history in science. Highly recommended.—Teri Shiel, Westfield State Coll. Lib., MA


REVIEWS - "Patricia Neal: An Unquiet Life"

Stephen Michael Shearer, who has worked as a professional actor, has written for The Film Collectors Registry and contributed research to the Academy of Motion Picture Arts & Sciences.

"This impressively researched biography of film actress Patricia Neal covers an immensity of material." --(Salt Lake City) Deseret News

"Shearer delivers an inspiring look at the professional triumphs and personal tragedies that define one of Hollywood's legendary stars." --Des Moines Regiser

"Patricial Neal has traveled the road from tirumph to despair in ways few of us can imagine. There is sincerity and dedication behind this work." --Paul Newman

"Screen legend Neal's life was filled with tragedies and triumphs, and Shearer unveils an impressive portrait of the actress. . . . Readers of As I Am, Neal's 1988 memoir, will seek out this biography for more of the actress's absorbing and inspirational story." --Publishers Weekly

"Digs into the amazing first 80 years in the life of one of our national treasures. . . . Neal is still a great force of nature, and Shearer's book documents all her ups, downs, traumas and triumphs." --Robert Osborne, Hollywood Reporter, Reuters

"A tour de force biography." --Louisville Courier-Journal

"Her life has had so many tragic twists it makes for compelling reading." --Variety

"A solid biography." --Washington Post Book World

"Shearer explores Neal's fascinating acting career and personal life, her marriage to children's author Roald Dahl, and her amazing dedication and bravado that has marked her film legacy." --Celebrity Café

"A rich record of a life, and of the time and places in which that life was lived." --Toronto Globe and Mail

"One can see plainly while reading this book that it was a real labor of love. Anyone interested in movies as well as U.S. social history will treasure this volume about an extraordinary actress and lady." --Bowling Green Daily News